Women Writing Women's Lives: How I Got that Story – by Jenna Vaccaro

Jenna Vaccaro is the Co-Editor of the chapter newsletter, New York Bookwoman, and has also represented the WNBA-NYC as a Youth Representative to the United Nations. She is also a graduate student in the MS in Publishing Program at Pace University. Below she shares her reaction to this week's Women Writing Women Lives panel – How I Got That Story!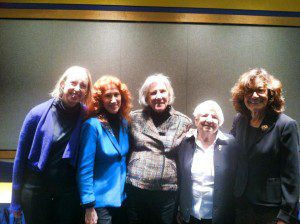 Left to right: Diane, Nancy, Deirdre, Jean, and Marnie
Tuesday, November 14, 2013, the WNBA-NYC chapter partnered with the organization Women Writing Women's Lives seminar and Pace University's Dyson College, for an event featuring female authors writing biographies of famous (and not-so-famous) women throughout history. The evening event was held at Pace University's downtown campus and featured some of today's most interesting biographers:  Diane Jacobs, Marnie Mueller, Nancy Rubin Stuart, Jean Fagan Yellin. The moderator for the panel was biographer Deirdre Bair who is also a long standing member of the Advisory Board for the MS in Publishing Program at Pace University.
Deirdre Bair is one of the original founders of Women Writing Women's Lives, which started in 1990. The group represents a wide variety of feminist perspectives, and serves as a forum for authors, biographers, and historians to come together to discuss the issue of writing about women. They aim to highlight historical struggles in an effort to remind readers of the work done in the fight for equality. As Deirdre said, they work to eliminate the silence of the 18th century woman's voice.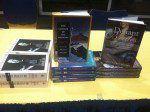 The authors all have different research styles, and use different methods to portray their subjects. Each has spent countless hours in libraries, archives, and museums in order to get the most accurate, interesting story. They discussed the extent to which supposition played in their writing:  how much of their story is assumed verses how much there is historical evidence to support claims. There is a fine line between creating innocuous drama in their story and falsifying something potentially historically inaccurate. They all agreed that a biographer has to be careful about every small detail.
I was particularly struck by the differing ways the authors felt personal connections with their subjects. Marnie Mueller, author of an as-yet-untitled story of a Japanese woman who lived through an internment camp to become a dancer and stage actress, knew her subject personally and spoke as if she were a conduit of the woman.  Pace University Professor Emerita, Jean Fagan Yellin, author and researcher on historical slave narratives, stated that it was very hard for her to remember that she is not of the time or race of the subjects she writes about. Diane Jacobs, author of a book about the revolutionary period and the Adams family titled Dear Abigail, was much more detached from her subjects: Jacobs knew her subjects through research on their letter-writing, among other historical research.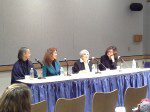 Nancy Rubin Stewart, author of Defiant Brides: The Untold Story of Two Revolutionary-Era Women and the Radical Men They Married, was similarly removed in time from her subjects, however she talked about them like they were old friends, discussing their actions in current contexts rather than historical ones.
The event was truly informative and entertaining, and we urge you to read some of our author's fabulous books! These women have put so much effort into remarkable pieces of entertainment and research, and we at the WNBA-NYC Chapter are very thankful for their appearances.
We would also like to thank Pace University's Dyson College and the MS in Publishing program for their generous use of the space and for providing refreshments.